Nadi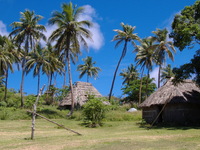 Nadi (pronounced "Nandi") is the third largest city on the island of Vitu Levu, and is a more personal and rugged version of the capital Suva. It is most likely to be the first place that visitors encounter due to the location of the international airport just 10km from the town centre. There are therefore hotels lining the route from the centre to the airport most of which have little to offer apart from free transfers and proximity to the airport.
Nadi itself has a great deal of character for its size, the main strip consisting of little more than one long dusty road bustling with vendors, touts and traffic. There is however not a great deal to see, which it not surprising as its development depends solely on the airport. It is a great place to glean some local knowledge and advice with plenty of tour organisers based here, many of which offer discounts on bookings for multiple activities.
Attractions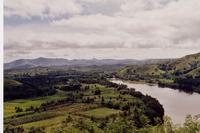 Nasouri Highlands – Public buses and organised tours take place daily through these breathtaking mountainous forests. Local guides tell bloodthirsty tales of cannibalism and violent tribe warfare detailing how even the most obscure objects were in fact used as weapons. These trips may also include a visit to a traditional village made up of the grass roofed huts known as "Bures".
Sri Sriva Temple – This burst of bright blues, greens and yellows which covers the intricate architecture is a real refreshing change from the chain of dusty shops of the city centre. It is the main place of worship for Fiji's Hindu community and is probably the most aesthetically pleasing thing in Nadi.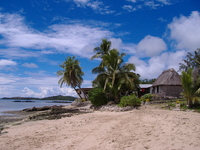 Scuba Diving – The surrounding reefs provide excellent diving opportunities and are one of the most famous coral conservation projects in the world. The Mamanuca and Yasawa island groups are two of the most popular and closest choices.
Shopping
Nadi excels in this area. As soon as you step outside you will be pounced upon by a tout and probably be taking part in an "authentic" cava drinking session before long. Their hope is that this will fuse some sort of bond and loosen your inhibitions (and pockets). If you are looking to invest in some colourful décor, anything carved from wood, clothes or jewellery you will not be disappointed as you are led from shop to shop, the owners of which all apparently directly related. The more upmarket shops have air conditioning, less pushy staff and actual authentic goods (the Fijian rugby shirts for example are only worth buying from an official outlet).
Nightlife and Eating Out
The restaurants rely on the same style of advertising as the shops, and it may become incredibly annoying (particularly if you are British) not to be allowed to peruse a menu without fear of being accosted by the owner or his cousin. To be honest it is not really worth the effort as much of the food is fairly standard. The more expensive hotels and resorts serve very tasty locally caught fish and seafood, and the street stalls and bars make do with cheap, fatty alternatives.
The town is reasonably quiet with respect to nightclubs, most of the partygoers being drawn to the Yasawa Islands. There are a few clubs however, such as Bobby McGee's and Planters, although these tend to be more popular with the local crowd of heavy drinkers. A better bet if you hope to meet people are the bars of small hotels and hostels, but they do tend to be very quiet and could be a disappointment if you're looking for a rowdy night out.
Tourist Information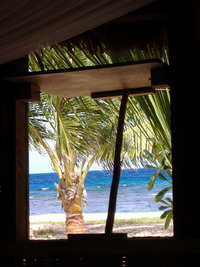 Fiji Visitors Bureau, Nadi International AirportTelephone: +679 672 2433Official Fiji Tourism website
There are many more unofficial information offices in the town centre, but in reality these are simply tour operators.
Airport
Nadi International Airport is a colourful affair decorated with flowers and traditional paintings and decorations. Destinations include Australia, New Zealand and other Pacific islands. Nadi town is a ten minute drive with regular buses and taxis servicing the airport. The airport is being developed at time of writing; for details of progress see the Nadi Airport website.
All car hire locations in Fiji