Killarney (Cill Airne)
Killarney is a small town in County Kerry. In the heart of the province of Munster in south-west Ireland, Killarney nestles in the hollow of a valley, overshadowed by the MacGillicuddy Reeks, Ireland's largest mountain range.
The site of the town is truly stunning, caught as it is between high mountains and the blue expanse of the Lakes of Killarney. It is probably this beautiful setting that drew the monks that founded the original monastic settlement in the 5th Century. A lay settlement grew in the area around the 1500s.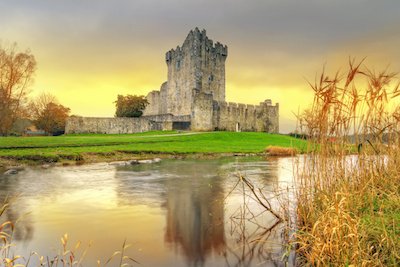 The town grew and became relatively prosperous over the next 300 years as a centre of the Irish woollen trade. Visitors can still see working woollen mills near to Killarney, still powered by a water turbine as they were in the 17th Century.
In recent times tourism has overtaken manufacturing to become by far the biggest industry in Killarney. Its beautiful scenery and proximity to Dingle, Tralee and the Ring of Kerry makes it a tourist Mecca.
Attractions
Killarney itself is not a large town but it does have a few places of interest. It has an imposing neo-gothic cathedral whose delicate interior decoration belies its rather heavy exterior.
There are a number of small art galleries in Killarney, mostly displaying the work of artists based locally. In some, such as the Dermot McCarthy Studio Gallery, visitors can see resident artists at work as well as view their finished products. Oddly enough this small town is home to southern Ireland's only planetarium which has a space museum and a daily star show.
Of course, the town is most valuable as a base for the exploring the sights and countryside of Kerry. Killarney National Park borders the town. This is 10,000 hectares of rambling mountain scenario and rich wildlife. The park has four self-guided nature walks on which lucky ramblers can observe otters, minks, Irish hares, deer and badgers.
The park also contains Muckross House and Gardens. The house, built in 1843 is a 65 room Victorian mansion and one of the best remaining examples of the Anglo-Irish "Big House." The gardens contain the typical well-manicured lawns and flowerbeds of a stately home. A bit of extra colour (and odour) comes in the form of the Muckross Traditional Farm. This is a fully working farm that uses only pre-industrial techniques. Even the workers have to live in pokey labourers cottages.
The countryside around Killarney is perfect for rambling, hiking, horse riding and mountain biking. Relevant equipment can all be hired in the town. On your journey you can stumble across incredible sites like the Torc waterfall or the idyllic blue pool. The Gap of Dunloe is a glacial Crevasse dug out of the mountain by a giant ice sheet thousands of years ago. It can be reached on foot, by bike or by car but the best way is definitely a ride in a traditional pony and trap with a return journey across the Killarney lakes by boat.
The lakes have always been a favoured destination for Irish fishermen. There are organised fishing excursions either to the lakeshore or by boat out into the lake itself. For the more adventurous the Killarney Fishing Centre organising Sea Angling expeditions in the Atlantic.
Shopping
Killarney doesn't boast a large range of shops and you won't find many big chains here. The town centre does have quite a few local art and craft shops displaying the wares of local artists and there is a small but growing antiques trade in the town.
Nightlife and Eating Out
Killarney is a tourist town so there is no shortage of places to get a good meal. The more exclusive hotels have large restaurants attached. The Killarney Park Hotel is among the most luxurious. This is a family run, five star hotel set in its own grounds with an attached restaurant offering, breakfast, lunch, high tea and dinners of up to five courses. Be warned, it won't come cheap.
At the other end of the scale the town has an abundance of local pubs all serving food at lunchtime and in the evening. These are mostly family run, cheap and cheerful places where you can enjoy a pint of Guinness and a plate of sausages and champ (mashed potated mixed with spring onions). More upmarket "gastro-pubs" have wider menus and decent wine lists.
Nightlife in such a small town is centred on pubs. Many will hold traditional music nights at least once a week. These could feature touring professional musicians or just a bunch of locals who bring down their instruments for a "session" while they drink.
Tourist Information
Killarney Tourist OfficeBeech Road,Killarney,County Kerry.
Tel: +353 64 6631633
Email: killarneytio@failteireland.ie
Airport
Kerry (Farranfore) International airport is 15km from Killarney town centre. Budget airline Ryanair operates routes from Kerry to London Stansted, Liverpool and Frankfurt Hahn. The smaller airline Aer Arann flies more irregularly to Dublin, Manchester and Lorient.
Cork International Airport (100km from Killarney) also serves the Kerry region. It hosts a wide range of routes to destinations across Europe on both established and budget airlines.