Rotorua
Located on a volcanic plateau running through the North Island, Rotorua is famed for the geysers and hot springs that are dotted around the town. These bubbling cauldrons of thermal activity have made Rotorua one of the North Island's most popular tourist destinations, and the town is busy throughout the year with people coming to see these incredible natural attractions. The smell of sulphur engulfs the whole town, but this is easy to become accustomed to, and only adds to your experience.
Rotorua also has a greater concentration of Maori residents than anywhere else in New Zealand, which means that it is steeped with culture and history. Examples of this can be found throughout the town, and its tourist industry has developed to give you the opportunity to experience this fully.
Attractions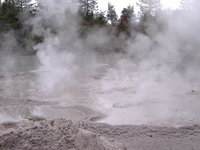 The mineral waters that escape from the ground at Rotorua are often proclaimed to have health benefits, and many come to take advantage of their legendary healing powers. The Polynesian Pools contain 35 thermal pools of varying temperatures and mineral contents. You can spend as long as you like moving from pool to pool, soaking in their natural waters and enjoying the views of Lake Rotorua. Private pools and spa treatments are also available.
Geysers can be found all around the town, and walks are available to take you to some of the most impressive ones. Kuirau Park contains smaller geysers and thermal pools, as well as gardens and picnic areas. Whakarewarewa is home to Pohutu, meaning 'Big Splash'. This is the largest geyser in New Zealand, and it erupts around twenty times a day to a height of up to 100 feet. Whakarewarewa Thermal Village is an example of how these natural pools and geysers can be used as a part of everyday life. Its residents have used the thermal activity for cooking, washing and heating for hundreds of years, and the village is open daily for tourists to witness how this is done.
A Skyline gondola rides up Mount Ngongotaha, and, with the lookout located at 1598 feet, it offers unrivalled views of the surrounding area. In usual New Zealand style a more adventurous option is available, and the descent back down can be done in a high-speed luge cart. A 'Sky Swing' is also available which reaches a height of 164 feet, travelling at 75 mph.
For some information on Maori culture and the history of the area visit the Rotorua Museum of Art and History. As well as Maori artefacts and exhibitions, there is also information regarding the forms of hydrotherapy offered throughout the years.
Tamaki Maori Village offers the chance to see how a pre-European village exists. Tourists are invited to a hangi, which is an authentic evening meal. A cultural performance is included and overnight stays can also be arranged. Traditional Maori carving, cooking and weaponry workshops, to name a few, are available so that even more can be learnt about the Maori culture.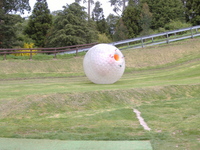 'Zorbing' is Rotorua's homegrown activity, and therefore a must to try while you are visiting. The 'zorb' is a vast inflatable ball which you are encased in, and then left to roll downhill inside. This can be done with a dry zorb, or you can step the action up a notch by trying wet zorbing.
Lake Rotorua is a popular destination for many water sports including windsurfing, kayaking, sailing or the more exhilarating jet boating.
Shopping
The town does not boast a great variety of shops, and most of the ones available can be found across New Zealand. However, with such an emphasis on Maori culture, shops selling Maori arts and crafts can be found literally everywhere. This is definitely the place to stock up on your souvenirs
Nightlife and Eating Out
Although there are bars available, the best nightlife that Rotorua has to offer are the hangi nights and Maori concerts. As well as nights offered at the Tamaki Maori Village, other tourist companies offer similar excursions in other Maori Villages. Most of these offer parallel entertainment, so it is often best to go by recommendation from your accommodation. Major hotels and some bars offer weekly Maori themed entertainment as well if you do not wish to visit one of the villages.
The rest of the nightlife in the town is a rather low-key affair with the majority of bars closing around midnight. Although the town is small, it is a popular tourist destination which is reflected in the variety and amount of bars offered. The restaurants available are towards the top end of the price scale, and you can find food to suit most pallets.
Tourist Information
Tourism Rotorua Travel Office1167 Fenton StreetPrivate Bag 3007RotoruaNew Zealand Tel: + 64 7 348 5179Fax: + 64 7 348 6044info@rotoruanz.com or isite@rotoruanz.com www.rotoruaNZ.com
Airport
Rotorua Airport is located around 15 minutes from the town centre. Air New Zealand and Qantas have domestic and international flights in and out of this airport. There are shuttle buses available throughout the day to transport you to and from the town. However, taxis are only slightly more expensive and offer a much quicker and convenient method of travel.