Hervey Bay
Alexander Cook named this area "Hervey's Bay" after the disreputable womaniser Lord Augustus Hervey. Cook may have mistakenly named the island a bay, the sand flats which he saw extending from the bay do not in fact reach Fraser Island as he thought, but the reference to womanising has turned out to be quite apt! The area has earned itself a place on the backpacker route as the departure point from which trips to Fraser Island run and consequently is home to a number of oversized garish clubs. The mood is laid back with the majority of the services aimed towards the backpacker community to either help pass time either side of visiting Fraser Island or stocking up on beer and cigarettes for the trip itself.
The city is already one of the largest in Queensland and is growing rapidly and now boasts its own university. This does not have such a large effect on a town as in the UK, with most students living at home to study. Once away from the main strip, visitors can enjoy the peaceful beach surroundings with all manner of vehicles imaginable on offer for hire.
Attractions
Whale Watching – Hervey Bay is visited by the Majestic Humpback Whales annually from mid-July to November. They are an agile and playful species with mothers and children playing together in the water even in close proximity of small boats. There is a choice of about 20 tour operators, most guarantee a sighting and some even giving the opportunity for guests to listen to the whale song. Other marine mammals which can be spotted include dolphins, turtles and dugongs.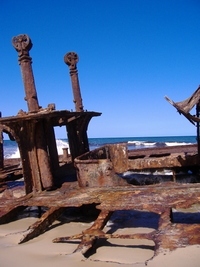 Fraser Island – The world's largest sand island is one of the most intriguing natural wonders of Australia's East Coast. Sadly it is also one of the most popular with the majority of visitors opting to spend their time drinking and starting fires rather than appreciate and/or respect the wildlife. That is not to say that it has been completely spoilt, just that those with more wholesome reasons for visiting may be put off by the hoards of 4x4s tearing up the beaches and inland sand roads. The standard procedure is to pay for an all-inclusive trip where vehicle, maps, ferry pass and tent are provided allowing you to explore at will. There is a great deal to see including crystal clear inland lakes, creeks and dunes. The wildlife is extensive and care must be taken not to aggravate the dingoes that patrol the island and swimming is not advised as the surrounding waters are teaming with sharks, the lakes on the other hand are fine.
Fishing – The high species diversity makes fishing here a rewarding and exciting experience. From the straits and reefs of the mainland to the rocks and lakes of Fraser Island there is an almost inexhaustible range of sites to fish. That in mind, the waters are strictly policed and strict size and bag limits are in place. Chartered vessel trips are also available for those looking to catch fish at sea.
Shopping
Most of the purchases made along the main strip are crates of beer, barbeque supplies and tobacco for consumption on Fraser Island, the prices of which are therefore not very competitive, meaning that any opportunity to stock up beforehand are definitely worth taking. Larger stores at Torquay Road, Pialba are more reasonable and also offer more specialist items such as sports equipment. The many fishing shops not only sell all the possible equipment you might require but are also a valuable resource for advice about where to fish when etc.
Nightlife and Eating Out
Plenty of different types of international cuisine are available at Harvey Bay, although some interpretations are of questionable authenticity. Some fantastic seafood is available, but low-end options are really not worth trying. There are deals aplenty on offer to backpackers, providing good fuel and lining for the inevitable night of cheap alcohol to follow.
The clubs, often attached to backpacker hostels, are worth experiencing for one evening at most. A second visit is likely to bring home the true level of tackiness and evident debauchery, which famously continues at the city's lagoon which the locals advise you not to enter in peak tourist season likening the experience to "swimming through cobwebs" although there are debates as to what this is supposed to mean. It's not all bad and there is a good local
Tourist Information
Bay Tourist Information Centre333 The Esplanade, Hervey BayTelephone: 07 4124 6911E-mail: btic@bigpond.net.auWebsite: dkd.net/bti
Airport
Hervey Bay Airport offers direct flights to Syndey, Melbourne, Perth and Adelaide as well as scenic flights over Fraser Island. Regular transfers are run by hostel and tour operators.