Perth
Perth is Australia's western most major city. Whilst quite small by international standards, with a population of only one and a half million, it is the country's fourth largest city, and state capital of Western Australia. The first European settlers arrived in this region in 1829. James Stirling christened the new township Perth in the same year, after Perthshire in his native Scotland. However, the area has been occupied by indigenous Aborigine people the Nyongars for an incredible 40,000 years.
Attractions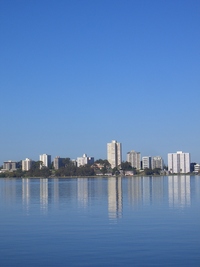 Some of Australia's tallest skyscrapers, numerous shops and cafés, and a bustling atmosphere make Perth city centre well worth a visit. Perth Mint (East Perth) is Australia's oldest surviving minting facility and is a very popular tourist location. The Mint puts on a number of fascinating historical exhibitions, and gives you the chance to buy a personalised solid gold medallion. The impressive daily 'Gold Pour' gives you the chance to witness pure, molten gold forged into a solid bar right before your eyes.
Perth plays host to many art galleries, and strives to maintain a rich cultural tradition. The large Art Gallery of Western Australia, near the railway station, displays Australian and Aboriginal art, as well as other work from around the globe. Perth is also home to a burgeoning contemporary music scene, and is a great place to catch live bands. Comprehensive information on forthcoming gigs is available at www.wam.asn.au.
Around the city it is also well worth checking out the riverside Barrack Square, a lively area that boasts restaurants, cafés and a bar. The Swan Bells, in the middle of the square, is a huge modern bell tower that is billed as one of the world's biggest musical instruments. Also worth visiting are the cutting edge Scitech science centre, and state-of-the-art Horizon Planetarium, both found in West Perth's City West Complex.
Residents and visitors alike enjoy taking advantage of Perth's healthy outdoors tradition. The banks of the Swan River, upon which the city was founded, are an excellent location for scenic walks or cycle trips in the company of the black swans that gave the river its name. Kings Park, just outside the city centre, is a lovely place to relax, picnic, sunbathe, or hire a bike for a ride around the well-kept trails. Perth Zoo, in South Perth, houses an impressive collection of native Australian animals alongside many other species from around the world. Of course, Perth's seaside location means that you are never far from a beach.
A short car ride away, the town of Fremantle makes for a perfect day trip. Visit the Maritime Museum, stroll around the old port, or just take time out in one of the town's many cafés and bars.
Shopping
Perth has a wide range of shops that will cater for most tastes. Shopping in the city centre predominantly takes place inside a long series of covered arcades and walkways. There are also several modern department stores in the centre that stock designer clothes, luxurious food, and everything in between.
The West End is rapidly becoming the most cosmopolitan region of the city. Trendy clothes boutiques, art stores, and shops stocking traditional Aboriginal craftwork make this area home for fashionable residents and visitors alike.
Nightlife and Eating Out
Although not the liveliest city after sunset, there are plenty of places to go for a night out or a quiet meal. The most upmarket places to eat are in the restaurants of the expensive hotels in the city centre. Meanwhile the Northbridge area offers a wider range of restaurants and cafés offering food from around the globe.
Northbridge is also the focus of the city's late night activity. Here you will find the biggest collection of bars and clubs in Perth. Live music is particularly strong here, and there are many opportunities to see new bands. However, in recent years the West End area has been increasing in popularity, and is filling up with fashionable bars and clubs.
Tourist Information
Perth Tourist Information Centre (PTIC),Level 1, 116 Murray Street,Perth. WA 6000AustraliaPhone: +61 (8) 9325 5333Fax: +61 (8) 9325 3532www.ptic.com.au
Airport
Perth Airport is within easy reach of the city. Shuttle buses and taxis run regularly to and from the city centre, and it is also accessible by car.