Mildura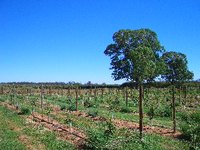 Characterised by palm trees, lush vineyards and the majestic Murray River, this modern "rural city" on the New South Wales/Victoria border combines peace and tranquillity with some of Australia's most beautiful scenery. Visitors to Australia often stick to the densely populated coastline, but those who do venture into the outback are rewarded with gems like this sun-washed town, known as an oasis in the desert (and benefiting from hot and dry desert weather!) The tourist population currently consists mainly of backpackers and migrant workers on the fruit-picking circuit; holiday-makers are advised to visit now before Australia's hordes of grey nomads get wind of the place.
Attractions
Don't miss the Arts Centre on Cureton Avenue, North Western Victoria's biggest and most vibrant gallery. Entertaining children is no problem in Mildura – they'll love the Park for Play. Housed in the Old Aerodrome Sporting Complex on Eleventh Street, this innovative park, designed to facilitate educational play to aid child development, is also a lot of fun.
Outdoor activities are plentiful in this corner of Victoria. The stunning Apex Park set amid state forest is just minutes from the town centre – follow Cureton Avenue across the railway track and you find yourself in peaceful woodland. Twenty minutes walk or a short drive brings you to Mildura's most popular beach on the Murray River, surrounded by high rocky cliffs which reflect the colours of Victoria's fantastic sunsets. Utilise the (free!) public barbeques and swim in the warm evening sun before sitting back to relax and watch the sun go down.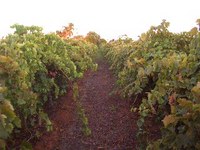 Further afield, the region abounds with places to walk, fish, swim or relax. The Murray-Sunset National Park, famed for its pink lakes and sand dunes, is a must-see. This unspoilt area is home to an abundance of wildlife and several endangered species including the Paucident Planigale, a small carnivorous marsupial.
Mildura is famous for fabulous wines and a visit to a vineyard is highly recommended. Many provide guided tours and tastings for visitors, whilst nothing beats the view of fields of lush grape vines in the dazzling sunshine. The Salisbury Estate (Admission $8-15, Tel 03 5024 6800) is recommended for its beautiful gardens and regular concerts.
Shopping
Despite being a small city, Mildura can fulfil all your shopping needs. Visit Kmart, conveniently located on Eighth Street, for general goods and bargains. There are a number of small speciality shops in the pedestrianised town centre, whilst fresh produce can often be purchased directly from nearby farms. Visitors will love the bustling Sunday markets held at the Langtree Mall.
Nightlife and Eating Out
Cool off at The Sandbar (corner of Eighth Street/Langtree Avenue) with its refreshing mists of water and outdoor area. Mildura Brewery on Langtree Avenue offers a range of delicious house beers from its microbrewery - the Murray Honey Wheat beer is particularly recommended. Nowhere does unforgettable al fresco dining like Mildura - for authentic Italian and Greek dishes and irresistible coffee and cakes, just stroll along Langtree Avenue and choose from the many cafes and restaurants on offer!
Tourist Information
Alfred Deakin Centre180-190 Deakin Ave(corner of 12th St & Deakin Ave)Mildura
Telephone: 03) 50188380
Airport and Transport
Mildura can be reached by train and coach from Melbourne (travel time approximately 7 hours), Adelaide and Sydney. Mildura airport has regular services to Melbourne, Sydney, Adelaide and Broken Hill, with flight times as follows:
Melbourne - 1 hour 10 mins Adelaide - 50 mins Broken Hill - 55 mins Sydney - 1 hour 55 mins