Thursday, 13 August, 2015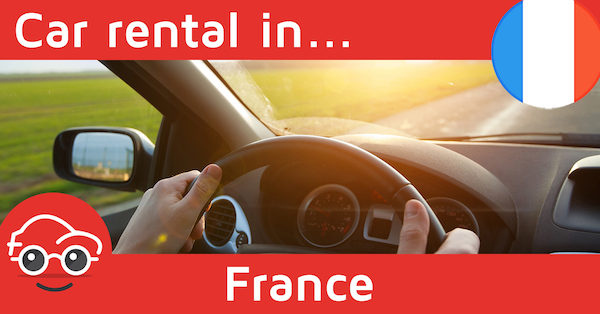 From bustling cities steeped in historic culture, to rural countrysides and beautiful coastlines, France really does offer a holiday for all; and what better way to experience it than by hiring a car and exploring it all yourself.
If you're planning on joining the average 17 million Brits that visit France each year, you may find our handy tips below useful when planning your getaway
Requirements and Essentials for Car Rental
Age
Although the driving age in France is 18, in most cases you will need to be at least 21 and have held a Full Driving Licence for 1 year in order to hire a car. Some providers may even state you need to be 25 – so always best to check with the company before booking your hire vehicle.
Younger drivers are able to hire cars, depending on the company, but will usually face quite a hike in price as the insurance premiums are much higher.
What do I need to provide?
– Your Passport to verify your ID
– Your valid UK Driving Licence (with Paper Counterpart) – although not essential, it's better to have it just in case
– A Valid Credit Card – some companies may require this as payment method for security
So, what should I keep in the car?
Always keep your licence, insurance and registration documents in the car with you when you travel. It is also useful to keep the Hire Centre's contact information with this too.
There are several items that legally must be kept in the car – if you are stopped by the French Authority and do not have these items, expect to receive an on the spot fine!
– Warning Triangle – Max. fine of €135
– Spare Bulbs – Max. fine of €80
– Hi Viz Vest – Max. fine of €135
– Headlamp Convertors – Max. fine of €90
But don't worry, the hire company should have these items in the car already for you! If you are driving in your own car, however, do take note and remember to include a GB, or relevant country code, sticker too as without one, you could face a maximum fine of €90.
Rules of the Road in France
– First and foremost, remember that you will be driving on the right hand side of the road, meaning you will overtake on the left on fast roads and enter roundabouts to the right too. You'll also have to master using a gear stick with your right hand if you opt for a manual vehicle!
– Wearing a seatbelt is mandatory at all times, regardless of whether you are travelling in the front or back of the car. The driver can receive 3 points on their licence and a €135 fine for anyone not wearing one!
– Children / Car seats are not permitted in the front passenger seat.
– Use of mobile phones, without the use of a handsfree system, is strictly prohibited.
– At a junction, a sign with a heavy vertical line (with smaller lines in opposite directions) dictates that you have the right of way.
– When approaching a crossroad, even on minor roads, a sign with the lines at 45 degrees indicates you must give way to the right.
– The Autoroutes (Motorways) operate on a toll system, so ensure you have change on you! Also, having a passenger will be a great help – most booths weren't designed to be left hand drive friendly!
Locations
Where in France is car hire essential?
If you plan to visit one of the hundreds of beautiful villages in France, car hire is most certainly your best option. It will be the best way to make the most of every aspect of the journey there, especially if you travel anywhere near the eastern border – what better backdrop to your road trip than The Alps?!
Similarly, exploring some of the smaller cities, such as Cannes and Versailles would be better by your own vehicle; both extremely close to major airports where car hire is aplenty, and will save you a "fare" (!) amount in taxi costs!
However, if a trip to one of the larger cities like Paris or Bordeaux is on the cards, car hire may not be necessary. There is a vast array of public transport available, such as Trams and, of course, The Metro System which will eliminate the need for car.
Bizarre Driving Rules in France
– It is a legal requirement to carry a breathalyser in the car – however the €11 fine that was brought in has since been scrapped and you will receive no penalty if you're found without one… figure that out!
– Wear glasses to drive? You must carry a spare pair in the car with you, then!
– On a roundabout? Remember to give way to the left! But if you are on an unmarked junction in a village, give way to the right!
Our Top Tips
– France operate strict speed restrictions and roads are filled with speed cameras. For this reason, the use of electronic tracking devices to spot the exact location of radars is not allowed. Sat-Navs are usually programmed to spot "danger zones" – where cameras are likely to be, so should be ok. However, it may be better to hire device with your car rather than taking your own, just in case!
– Always do your research and spend time comparing Car Hire Companies to ensure you get the best deal, from a trusted source – or simply use Car Hire Centre!
– Inspect the vehicle carefully upon pick up and note any pre existing damage. Make sure the Hire Company are aware too – taking photos is always a good idea
– Try and book your hire vehicle a couple of months in advance if possible – it's not uncommon to pay 33% of the price, compared to booking a week or so before your trip
– Stay safe and enjoy your drive in France!