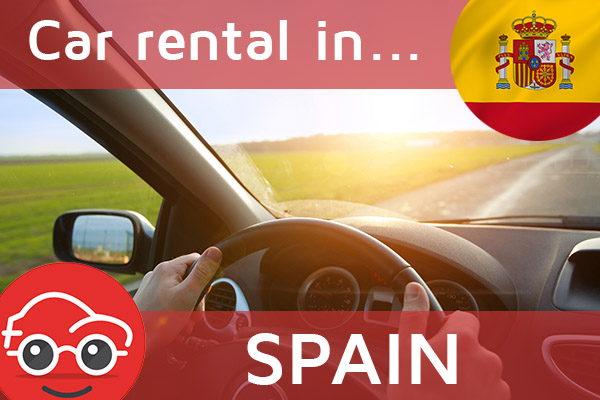 Renting a car in Spain is a very popular choice for holidaymakers, over 12 million brits visit Spain each year and it's estimated that around a third of them will choose to rent a car as a means of transport during their break; and it's easy to see why when much of Spain is rural and disconnected from public transport such as metro lines and trams.
Renting and driving a car in a foreign country can be a very daunting thought for some, but it really shouldn't be, after all, the larger part of Spanish roads are in very good condition and are all signposted very well, helping you find your destination much easier.
Requirements and essentials for car rental
Age
The legal driving age in Spain is 18, but when it comes to renting a car in Spain, you must usually be 22 (25 for specific cars). This does not mean that people under the age of 22 cannot rent a car, contrary to popular belief it is not illegal for someone under 22 to rent a car in Spain. However, it can be a difficult process and will most certainly cost you a lot more as rental companies see younger drivers as more of a hazard, therefore a 'Young Driver's Surcharge' is usually added to the price.
Required documents for car rental
Upon arrival to the rental car company, you will need to present the following:
– Proof of ID (they will usually ask to see your passport)
– A full and valid driving licence (with a paper counterpart*)
* The paper counterpart is no longer essential, although it is recommended you bring it as a security measure, you can read the new rules surrounding the UK driving licence here.
Required documents for driving your own UK vehicle in Spain
– V5C Certificate as proof of ownership
– Proof of insurance
Required equipment to be kept in the car
Spanish law states that you must carry specific equipment in your car, if you are stopped by the police and fail to present the following items, expect a hefty on-the-spot fine:
– A warning triangle
– Headlamp beam deflectors
– Reflective jackets
Motorcyclists must always have their lights turned on, even during the day and crash helmets are compulsory. The RAC offer a great 'Driving in Spain Kit' for a reasonable price.
Rules of the road in Spain
Which side of the road?
The most important thing to remember when driving in Spain, is that the Spanish drive on the right hand side of the road. One in three brits have admitted to driving on the wrong side of the road at least once whilst abroad, meaning at least 44,000 miles of road has been covered whilst on the wrong side of the road and 108,000 accidents occur each year from head on collisions in Europe, quite worrying!
Roundabouts and intersections
Once you have your head around driving on the right hand side of the road, the rest is pretty simple and most rules are pretty similar to that of driving in the UK. However, there are many roundabouts in Spain and they work slightly differently; the person that is already engaged at the roundabout, has priority, unless there are traffic lights to direct the flow of traffic. You will find that most Spanish intersects are controlled by traffic lights, if they aren't, then you must give way to the right, like our roundabouts – just to confuse you!
Larger vehicles  
If the vehicle you're driving in Spain is longer than 10 metres or exceeds 3.5 tonnes, then you must keep a minimum distance of 50 metres from the vehicle in front of you.
Locations
Where in Spain is car rental essential?
As previously mentioned, much of Spain is rural and disconnected from public transport such as metros and tram lines, sure you may be able to catch the odd bus, but this probably won't be enough depending on where you want to go.
If you're staying in the beautiful region of Andalucia and want to explore the region's attractions then you will most definitely need to hire a car, unless, you are staying in the centre of Malaga and are not planning on venturing outside of the city, as it has a very good tram system and driving in Malaga can be a bit of a nightmare. The same applies for the equally beautiful city of Sevilla. The two provinces of Extermedura and Leon neighbour Portugal and are also largely rural, so again, if you're planning on exploring these regions, car rental will be a good idea.
Other regions where car rental is recommended:
– Southern and northeastern (East of Madrid) parts of Castilla La Mancha
– Rural Valencia
– Rural Murcia
– Northern parts of Cataluna and Aragon
Bizarre driving rules in Spain
– If you require glasses to drive, you must carry another set with you at all times!
– In some cities and on one way streets, cars must be parked on the side of the road where house bear uneven numbers on uneven days of the month!
Our top tips for you
– Always get multiple quotes (Or use a meta-comparison site like Car Hire Centre!) before paying, prices can vary massively between different car rental providers. ¾ Brits who didn't get multiple quotes before booking feel like they have been ripped off.
– Check the reputation of the provider before booking, if they have terrible reviews, then it's probably best you avoid them.
– Never book a car without knowing who is providing it. Carry out a 360 check on the car before driving away and note already existing damages on report, take images.
– Keep all fuel receipts.
– Be aware of "full insurance" policies. Many rental companies in Spain will take large deposits and if there is so much as a scratch on the car when you return, they will take all of the deposit.
– Renting a car with flights and a hotel booking is a big money saver.
We hope you enjoy your time in Spain and your car rental experience!