Bath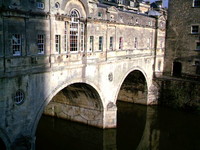 Set in the beautiful downland of the Somerset countryside, Bath is so-called because it is the site of an old Roman Spa fed by thermal springs. The city contains many fine examples of Georgian architecture, such as the famous Royal Crescent. These buildings, built from the distinctive honey-coloured Bath stone, have helped to give Bath a well deserved reputation as one of the most beautiful cities in Britain.
Attractions
Bath is rich in history and contains a great number of museums, galleries and exhibitions. Part of the original Roman Spa still remains and visitors are able to walk around this ancient structure. The Romans believed that the waters of Bath had special health giving properties. Thanks to the just-opened modern Thermae Bath Spa, which taps into the same springs it is now possible to test that theory for yourself! If something of a more literary flavour takes your fancy then there is the Jane Austen Centre, dedicated to one of Bath?s most famous residents. Alternatively the American Museum in Britain provides the only exhibition of artefacts from the early history of the USA in Britain. The Assembly Rooms, The Museum of Costume and The Holbourne Museum of Art are but a few more of the many locations of interest. Bus tours or a horse and carriage ride provide an easy way to see the main features of this charming city and a boat trip down the river comes highly recommended.
Shopping
Despite not being the largest of cities, Bath gives a visitor an excellent opportunity for shopping. The centre of town is very relaxed with broad streets and yet also compact and convenient. All the usual high-street chains can be found if these are desired. However the attraction of Bath to the shopper should be the large number of independent shops to be found; from clothing and jewellery to luxury chocolate.
Nightlife and Eating Out
Bath has a leisurely atmosphere in the afternoon and evenings. For old fashioned afternoon tea try the Pump Rooms or Sally Lunn's Refreshment House (in the oldest house in Bath). In the evening there are a host of good restaurants of different styles. At the top of the scale there are several boasting Michelin stars such as The Bath Priory. The Theatre Royal is a popular destination for entertainment after dinner. In terms of music and clubbing Bath does not have the most vibrant scene but there are venues for those who look for them, often situated in the large converted cellars of the old buildings.
Tourist Information
Bath Tourist Information CentreAbbey ChambersAbbey ChurchyardBathBA1 1LYTelephoneUK callers: 0906 711 2000Overseas callers: +44 (0)870 444 6442tourism@bathtourism.co.uk
Airport
Bath does not have its own airport, but is situated a mere 15 minutes train ride from Bristol, which has an airport connecting to many European destinations. Equally, from London it is only 1 hour 30 minutes by train to the city.