Edinburgh
Edinburgh has two sides to it: the historic and cultural Edinburgh that we all know and love; and the vibrant and cosmopolitan side that has emerged in recent years. This cultural dichotomy means that individuals coming to Edinburgh will find something to suit them, whatever the purpose of their visit.
Attractions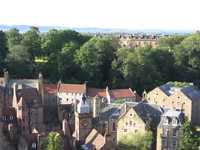 The most obvious attraction on a visit to Edinburgh is Edinburgh Castle, but Edinburghâs colourful past has contributed a great deal more to the city, such as the Royal Mile, which is rumoured to be Edinburghâs oldest street. On the Royal Mile a whole host of attractions can be found, including the Palace of Holyrood House, The Writerâs Museum (located in Lady Stairâs House) and the Brass Rubbing Centre to name but a few.
Edinburgh is split into two sections: Old town and New town. Old town is home to museums such as the Royal Museum of Scotland and the Museum of Scotland; while New town is home to the National Portrait Gallery and The Royal Scottish Academy.
Shopping
The main road for high street shopping in Edinburgh is Princes Street, but exploring the streets around here will turn up an unusual array of antique and jewellery shops and art galleries. The Grassmarket and the Bridges are where most of the interesting and unique shops and cafe's can be found.
Nightlife and Eating out
Edinburgh has literally hundreds of pubs to explore, and a diverse range of music venues. During August the world-famous fringe festival takes over the city and visitors can expect to see poets, comedians and museums in just about every bar and pub they come across during this period. The High Street and Cockburn Street are where most of the restaurants in the centre of the city can be found.
Tourist Information
Edinburgh & Scotland Information Centre3 Princes StreetEdinburghEH2 2QPTel: 0845 2255 121info@visitscotland.comwww.edinburgh.org
Airport
Edinburgh Airport is situated very close to the west of the city centre. It serves most domestic and European destinations.