Palma De Mallorca
The capital of Mallorca, Palma surprises with its cultural richness, splendid architecture and refined café lifestyle. Though only a stone's throw from the burger bars and mass tourism of El Arenal and Magaluf, the centuries-old city rewards any traveller looking for history, fine cuisine and a taste of the 'real' Iberia. Historically and atmospherically, it easily holds its own with some of the most celebrated cities of mainland Spain.
Attractions
Palma's main attractions lie in the old town, and a visit to the Banys Arabs (Moorish Baths) offers a window onto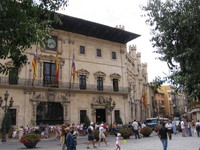 the pre-Christian heritage of Palma. Built in the 10th century and wonderfully preserved, the baths are also a great place if you want to cool down on a hot summer's day. More Moorish architecture is visible in the Palau de l'Almudaina, a former palace now home to a museum.
Palma's highlight, though is Sa Seu – the imposing Gothic cathedral near the city's waterfront. Marvel at the cathedral's magnificent stained-glass windows and stonework, and look out for the work of Spain's architectural genius, Gaudi. Close by, the peaceful Basilica de San Francesc is worth a visit for its beautiful cloisters and church. If all that history leaves you in need of respite, head for the Parc de la Mar near the cathedral – filled with fountains and greenery, it's a perfect place for promenading and watching life go by.
Shopping
Compact as it is, you don't need to head to a specific area of Palma for your shopping. Avinguda Jaume III is famed for elegant boutiques, and you'll want to head there if you're a fashionista. Palma has a branch of the department store Galerías Preciados if you're looking for everything under one roof, but for a real shopping adventure, it's much more fun to explore the back-alleys of the old city. Here you'll find small stores, selling a wealth of goods - look out especially for leatherwork and ceramics. You could snap up a pair of avarques, traditional Mallorcan leather sandals, for no more than €10. If it's flowers rather than designer wear you want, head for La Rambla, lined with sweet-smelling stalls. Don't forget to check out local markets either, Saturday's El Baratillo is the biggest and best. So why not get lost in the labyrinth of streets and enjoy a day-long shopping spree? A word of caution, though – Spanish lunch hours are lengthy, and in summer shops can be shut from 1pm to 5pm. Follow suit and allow yourself some quality siesta time!
Nightlife and Eating Out
Slap bang on the seafront, the broad expanse of the Paseo Maritimo is where you should head after hours. Here you'll find Palma's nightclubs, including Pacha and Tito's. Although Palma's hedonism can't rival that of Balearic sister island Ibiza, lively clubbing is definitely on offer.
Away from the waterfront, the Plaça Major is also a popular night-time hangout, with al fresco cafés open late into the night. Mallorcans often wait until midnight to dine, but it's not for want of restaurants. Palma has something to offer for every budget and taste. To sample hearty local fare, head for Celler sa Premsa, near La Rambla, which describes itself as a 'a dream come true for all those who love Mallorcan cooking'. Don't miss out on delectable seafood dishes, either, with Caballito de Mar in the Llotja district serving up some of the best. Also on offer are Italian, Indian and Japanese cuisines so you're unlikely to go hungry.
Daytime snacks abound as well, with bakeries churning out ensaimadas, sugar-dusted spirals of yeasty dough that make a satisfying breakfast when washed down with a coffee. For a more substantial snack, you'll find tapas in the bars. Like most food in Palma, these are of the highest quality but also good value for money.
Tourist Information
Oficina de informaciónPlaca de la Reina, 207012PalmaTel +34 (0)971712216Fax +34 (0)971720251oit@conselldemallorca.net
Airport
Palma de Mallorca Airport is located about 10km southeast of the city. It's a straighforward 20 minute drive along the motorway by car, or you can hop on one of the frequent bus services to the city for a fare of under €2. Close to one hundred airlines operate from here, with links to all major Spanish cities and many UK regional airports. The airport has a wide range of eating and shopping options to keep you well-fed and entertained.