Madrid
Madrid, the capital since 1562 Spain is Europe's fourth largest city – after London, Paris and Milan. It is located in the heart of the country, with the city and surrounding areas home to over three million Madrilènes.
Madrid remains Spain's financial and political centre, home to the Cortes (Parliament), Senate and Royal Family. Madrid may not have all the stunning architecture and ancient history of other Spanish cities, but it what it lacks it makes up in its modern, cosmopolitan lifestyle.
The city, situated 13km (8 miles) from the airport, sits atop a plateau and is the highest capital in Europe, making its climate somewhat extreme. Summers are generally steaming hot and winters bitterly cold. Spring is definitely the best time to explore. The city is compact and easy to navigate on foot - most of the sights of interest are found in the downtown area between the Royal Palace and Parque del Retiro.
Attractions
Madrid is best known for its 'Golden Triangle' of art museums, Prado, Reina Sofía and Thyssen-Bornomisza. The celebrated 'Art Walk' (Paseo del Arte) links all three, and a pass can be bought which is valid for all three.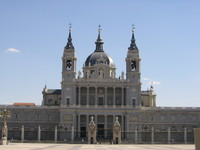 For those wanting to hire a car or test out public transport, the Monasterio de San Lorenzo de El Escorial lies just 50km (31 miles) northwest of Madrid, in the town of San Lorenzo de El Escorial. The beautiful monastery, with its four spired towers, was built by Philip II, as a memorial to his father, Charles V, and merges monastery, church and palace. It contains Philip's secret stash of works by El Greco and Hieronymus Bosch, as well as a library with about 50,000 volumes and a vaulted, painted ceiling.
For music lovers, the city is home to one of the most modern opera houses in Europe, the Teatro Real in Plaza de Oriente. Alternatively, the Teatro de la Zarzuela in Calle de Jovellanos is the major venue for zarzuela – Madrid's own genre, loosely comparable to Viennese operetta, but incorporating the idealised castizo (authenticity) of working class Madrid. The zarzuela season runs from June to September.
Although controversial, Madrid's Las Ventas Bullring in Calle Acalá is worth a mention. It is considered to be the Mecca of bullfighting, with weekly corridas beginning at 7pm, increasing to daily events during the Feria de San Isidro (mid-May to mid-June) and Feria de Otoño in late September. Sports fanatics who like something a little less blood-thirsty can watch Real Madrid, or Atletico de Madrid, Spain's most famous football teams.
Near Torrelodones, just outside the city, is Casino Gran Madrid in Autovía. It is the only officially recognised casino in the area. The dress code is formal and ties must be worn. The age limit is 21 and passports are required for entry.
Madrid Carnival is the hypnotic mix of parties, fancy dress and music which fills the streets from February to March. It is a pre-lent carnival, and as such it comes to a spectacular finale on Ash Wednesday.
A little later is the Summer City Festival - June and July become two months of festivities, offering bull fighting, music and theatre.
Shopping
Madrid offers an incredible assortment of shopping opportunities. On Chueca and Fuencarral streets, you will find an impressive range of interesting and quirky shops in an area that has recently been re-developed to become one of the trendiest areas in the city. Fuencarral Market is the best place to pick up high-fashion clothes and accessories. El Rastro flea market is always entertaining and definitely deserves a visit.
Nightlife and Eating Out
Street life reaches rush-hour proportions at 4am, with some carrying on even later. The busiest nights are Friday and Saturday (followed closely by Thursday), with the locals managing to go out every night and miraculously work or study during the day. Nightlife centres on three major districts – Chueca (Madrid's gay village – also a trendy location for straights), Calle Huertas (traditional Spanish music, smart clubs and bars) and around the Plaza del Dos de Mayo in the Malasaña district (favoured by a hip young crowd).
Zalacaín in Calle de Alvarez de Baena, is Madrid's prestigious three-Michelin-starred restaurant. The dress code is smart, and booking is advised for those wanting to sample the fine Basque cooking Zalacaín has to offer. Less daunting is the recently opened Planet Hollywood in Galeria del Prado, which joined the more established Hard Rock Café on Paseo de la Castellana.
Tourist Information
Plaza Mayor, 3Opening Hours:From monday to saturday, form 10 to 20 h.Sunday and bank holidays from 10 to 15 h.Telephone: +34 (0)915 881 636 / 91 366 54 77Fax: +34(0)913 665 477 www.descubremadrid.com
Airport
Barajas International Airport is Madrid's nearest and is connected to the city via the metro.