Como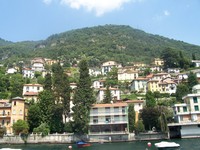 Capital of the province of Como in the region of Lombardy, the University city of Como was historically an industrial town, renowned throughout the world for its silk manufacturers (who still provide 75% of Europe's silk). Although retaining its roots in fashion through the numerous designers who work and live around the city, tourism has become increasingly significant to Como's economy.
A fashionable resort since the late Victorian era, Como's name is synonymous with fresh air, mountains, excellent food, good weather and of course its eponymous lake.
Founded by Julius Caesar in the first century BC, Como suffered invasion by the Franks, after which it was destroyed by the Milanese. It was then invaded by the French, Spanish and Austrians, before being liberated by Garibaldi (who is commemorated by a statue on one of the city's squares) becoming part of the new Kingdom of Italy in 1859.
Attractions
Prehistoric and Roman Como is documented in the Museo Archeologico Giovio, while they city's involvement in the silk trade is chronicled in the [http://www.museosetacomo.com Museo Didattico della Seta]. Como also boasts many romantic Romanesque churches as well as a 15th century cathedral incorporating gothic and renaissance features; while the Pinacoteca art gallery should be visited.
A funicular railway climbs from Como to the small, Alpine village of Brunate in a seven-minute journey that offers astonishing views over the city and lake. The village is an ideal starting point for mountain walks, which give similarly awe-inspiring views of the Alps. Globally popularised through celebrity weddings and the famous figures who own residences around its edge (which include Madonna, Donatella Versace, Sylvester Stallone and George Clooney), Lake Como is the city's principal tourist attraction.At 30 miles in length, it is Italy's third biggest lake and is bordered by many towns and villages.
West of Como, are the beautiful villages of Tremezzo and Cernobbio (whose Villa d'Este hotel regularly hosts such guests as Mikhail Gorbachev, Arnold Schwarzenegger and Angelina Jolie); while a drive east takes visitors to the towns of Faggetto, Lario and Lezzeno.
Ferries criss-cross the lake between its towns and villages and each of the big towns has its own port. Single fares cost between €4 and €20 depending on the destination and the trips offer breath-taking views of the surrounding mountains from the water.
The towns of Varenna, Menaggio and Bellagio are popular holiday resorts in their own right and each contains attractive old buildings, promenades offering superb views of the lake and a variety of excellent restaurants. Ferries also stop at the Isla Comacina, Lake Como's only island, which contains seven churches built by the ancient Byzantines.
Shopping
Being located only 30 miles from the fashion capital of Milan, Como, like the rest of northern Italy is a shopping paradise, where all manner of high quality designer clothes and luxury leather goods can be purchased for a fraction of the normal retail prices. Como's historic district is riddled with designer boutiques, while only a few kilometres outside the city, outlets such as the Armani Factory Store sell clothing at significantly reduced prices.
Other outlet centres are located outside Como and nearby Lecco. The best is Foxtown outlet mall, located just over the border in Medriso, Swizerland. It is where the fashion-conscious locals buy their clothes.
The best time to shop is during the January sales at the end of the fashion year between the 6th of January and the 15th of February, when the entire stock from the previous year has to be cleared from shops and warehouses to make space for next season's range.
Nightlife and Eating Out
Food in the Como province is influenced heavily by its geographical features. Dishes often use fish from the lake, or produce such as polenta, locally reared meats and poultry from the mountains, as well as game from their woods. The Briaza area towards Milan contributes cooked meats, sausages and cheese.
Virtually all of the restaurants in Como and around the lake serve local cuisine, made using regional produce. Prices are very reasonable with main courses generally costing between €7 and €20.
The much proclaimed, Il Gatto Nero, is perched in the hills above Cernobbio. Its wood-panelled interior is typical of the region, while its food earns rave reviews from all its clientele. George Clooney has eaten in the restaurant on numerous occasions, often bringing fellow actors such as Michael Douglas. Its main courses start at a little over €10.Como is however not renowned for its nightlife; however for those not contented with moonlight strolls around the lake and mountains, the city boasts several nightclubs. More are located around the lake as well as a number of casinos. The liveliest town in the evening is Bellagio, whose cafes open late into the evening, filled with diners, drinkers and dancers. Live jazz bands perform at its lakeside Frienza bar.
Tourist Information
Como Tourist OfficeProvince of Como and Lecco A.P.T. Piazza Cavour 17 22100 Como tel. +39-031-330011
Website: [http://www.comune.como.it/como/eng/ www.comune.como.it]
Airport
Como is accessible from four different international airports. Lugano in Switzerland is the nearest at only 20 minutes from Como by car and has regular scheduled flights to London, Rome, Zurich, Geneva and Berne.
The two Milan airports and Bergamo airport are all within 30-45 minutes drive of Como and provide direct coach links, or trains can be taken to Como from the main railway stations.
Milan Malpensa is Milan's main airport, witnessing traffic of almost 20 million passengers a year. It has frequent flights to many UK airports as well as many other destinations worldwide, with both traditional and budget carriers.
Linate is Milan city airport, which operates domestic and short haul services, including flights to numerous UK destinations, with both traditional and budget airlines. In 2005, the airport was used by 10 million passengers.
Bergamo airport hosts regular flights to a range of UK destinations with Ryanair.