Dinan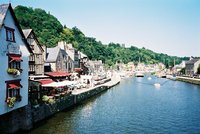 Dinan is widely acknowledged as one of the most picturesque towns in Brittany, if not the whole of France. Today's walled town was once a medieval fortress and has a colourful history dating back to even before William the Conqueror.
Established in the ninth century, Dinan was totally rebuilt two hundred years later after the aforementioned William burnt it down in 1065 - a piece of the town's history which is recounted within the Bayeux Tapestry.
Today Dinan is a Mecca for tourists who, especially in the summer months, swell the population to many times its indigenous 14,000. The town attracts an estimated half-million visitors each year.
The narrow, meandering, cobbled streets are lined with a characterful hotchpotch of full and half-timbered buildings, many of which over the years have become craft shops, boutiques, galleries, bars, ice-cream parlours, cafes and restaurants.
Attractions
Some twelve miles due south of the port of St Malo and the elegant resort of Dinard, the town lies on the river Rance and takes full advantage of its unrivalled position. One particularly steep lane leads from the town's ramparts to the water's edge where artisan shops and a dozen or more bistros and restaurants compete for the visitors' business. This is where a visitor can also hire a motor boat for a relaxing amble along the tree-lined river, or merely sit in a terrace bar and watch the world go by... however slowly.
The old town is dominated by its 14th century chateau which affords magnificent views over the Rance valley. Inside is a museum which explains the history, architecture and art of the town. It is open daily throughout the year apart from January.
The Jardin Anglais - a colourful and beautifully tendered terraced garden which clings to the town's ramparts - also offers breath-taking views of the river valley and surrounding countryside.
Dinan's 15th century clock tower - Tour de l'Horloge, naturally enough on rue de l'Horloge - is well worth a visit, even though it means a 23 metre climb up to the belfry which contains a bell donated to the town by Anne de Bretagne in 1507.
Opening times of all these attractions vary from month to month, but up-to-date information about all of them can be found on the town's tourist office website.
Shopping
Shopping in the centre of Dinan is a little like sauntering around an up-market country craft fair - everything fascinating, but very little that is really essential. Leather goods, decorative fabrics, silks, ceramics and pottery, glass, original artwork and limited edition prints, elaborate toys, jewellery, wines and liqueurs, biscuits, cheeses and a thousand other exotic delicacies are just a small proportion of what the visitor will encounter along the twisting streets.
For more practical shopping, the visitor has to go a mile or so out of town to the typical French retail park - containing the usual hypermarket, clothes shops and electrical, furniture and DIY stores.
Nightlife and Eating Out
Eating establishments, on the other hand, are more than plentiful. The only major decisions to be made are which of the many nationalities to choose and which view is most conducive to eating and the prevailing mood - the serene river or the bustling town squares?
Many of the bistros offer a selection of fixed-price menus - starting at around 15 euros - whilst the pizza restaurants can rustle up a delicious Margarita or a bubbling lasagne for about eight or nine euros. If it is just something sweet you are after, the town's several ice-cream parlours offer a wonderful, if overwhelming, choice!
Nightlife tends to centre around eating and drinking. In the warmer months, chairs and tables line the medieval streets, squares and, of course, the water's edge, where eagle-eyed waiters are eager to serve as soon as you sit down or drain your glass. Rue de la Cordonnerie certainly has the town's widest choice of bars and outdoor cafes. However, such alfresco drinking is not cheap - bringing drinks to your outside or riverside table is reflected in the tariff. But for the visitor it is invariably worthwhile - just to soak up the relaxing and cosmopolitan atmosphere.
Within half an hour's drive of Dinan are the night time attractions of both Dinard - with its famous Lucien Barrière Casino and assortment of clubs and discos - and St Malo which also boasts an ample variety of night-time entertainment. But for the visitor who does not want to venture too far, a mile or so outside of Dinan's walls is Le Zephire on rue de la Brest – Dinan's only, and therefore bustling, night-club. In dimly lit surroundings, Le Zephire caters for all tastes in modern music and opens its doors very late on Friday and Saturday nights.
Tourist Information
Office de Tourisme de Dinan, 9 rue du Chateau, BP 261, 22105 Dinan
Tel: 02 96 87 69 76
Fax: 02 96 87 69 77
Website: www.dinan-tourisme.com
Airport
Dinard St Malo Airport is approximately eight miles north of Dinan and has regular scheduled flights to and from the UK and the Channel Islands. Airlines operating from Dinard include Ryanair and Aurigny
Address: Dinard St Malo Airport, F-35730, Pleurtuit, France.
Telephone: +33 02 9916 3800
Twelve miles north of Dinan is the bustling port of St Malo with daily sailings to the UK and the Channel Islands.Ferry operators include
Brittany Ferries
and
Condor Ferries